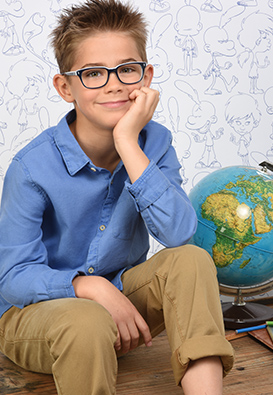 Eyesglasses
for boys aged 5 to 9 years
UNIVERSE

Titeuf is a cartoon character created by Zep in the 90s. The books published by Glénat Editions have a huge following amongst comic fans.

He first appeared in English in the Dandy comic in 2005. The television cartoon series has been shown on GMTV's Toonattik and Titeuf Gameboy games were launched. Titeuf looks cool with his tuft of yellow hair sticking straight up. His imagination and pranks land him in all sorts of trouble. Like most pre-pubescent boys, girls are a mystery to him, especially Nadia. Titeuf and his pals have become a real hit in the playground. Boys can identify with their adventures, humour and especially the way they talk !

Titeuf licensed products respond to a demand for both quality and creativity. By aiming for the mid to upper market sector, the merchandise reflects the world of the character himself.

COLLECTION

Just like their bungling hero, the Titeuf glasses collection displays an assertive personality. Titeuf has a full eyewear collection with a multitude of models in modern and colorful look, well suited to the tastes of children.

This technically-advanced range blends style with comfort. The original shapes come in smart colours. There are also models with a more sporty look. Don't miss the best-selling «catapult» design with its flexible 180° hinges!

POINT OF SALES MATERIALS

A free case and a present are furnished with each pair of glasses. A full POS material kit closely styled on the brand is proposed to highlight the collection in window displays.