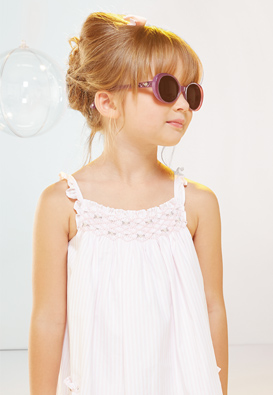 Eyeglasses and sunglasses
for children aged 4 to 10 years
UNIVERSE

For over thirty years, Tartine et Chocolat has focused on the world of childhood, capturing its charm and timelessness with chic. The story has since been given new impetus, establishing the brand's timeless modernity with an uncompromising and original twist.

Today, Tartine et Chocolat is a major brand and key player at the high end of the children's market. The selective distribution network that has been set up worldwide reflects the brand's demanding standards. The strategic aim is to place the brand as an international benchmark by developing product ranges that can create a complete world. It now has outlets in 12 countries through its network of franchises and chain stores: France: 15 shops and 30 multiple-brand outlets – Europe: 7 shops (London, Barcelona, Athens, Ghent, Geneva...) and 60 multiple-brand outlets. – Worldwide: 8 shops (Lebanon, Morocco, United Arab Emirates, Turkey, Russia...), 50 multiple-brand outlets and 122 in-store boutiques in South Korea and Japan.

COLLECTION

This collection is overflowing with the brand's timeless chic. These glasses recapture the world of childhood beautifully. This refined collection reinterprets the themes of the ready-to-wear range. Each season has its motifs: bows, lozenges or shields. A collection which has built its reputation on its acetate range. Without a doubt this is the most comprehensive on the market. Sophistication starts early here!

POINT OF SALES MATERIALS

A free case and a present are furnished with each pair of glasses. A full POS material kit is proposed to highlight the collection in window displays.